Give to The Vision
If you would like to partner with us in reaching the Tri-County with the love of Christ, supporting the vision of Grace Chapel (Belong, Believe, Become a Blessing), please click here to give. Every gift makes a huge difference.
We thank you in advance for your support and generosity.
Instructions:
Click the "Online Giving" button above.
Click "Sign Up" in the top-right corner of the window that opens. The website is convenient and completely safe.
After signing up and entering your information, you should find yourself on the page that looks something like the diagram below.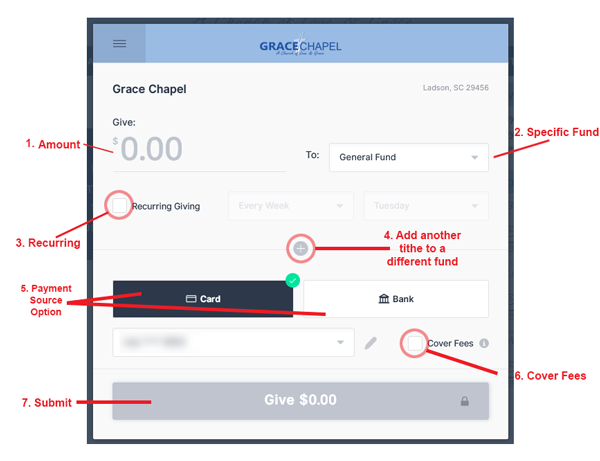 Amount: This is the amount you want to tithe. This amount is put toward the fund that appears in the "To:" drop-down list. (label 2)
Specific Fund: There are several funds that you can designate your tithe go toward specifically. In order to add multiple specific designations you'll need to click on the plus sign (label 4).
Recurring: This is an option to set a recurring payment. You can set the payment at several timing options, and/or specify the days of the week it is to occur. These payments will continue to happen until canceled.
Add another tithe to a specific fund: You can perform up to four (4) tithing specifications per transactions. They will appear as one signal amount in the submission box (label 7).
Payment Source: This shows your choice of payment source, if you have multiple cards or want to directly use your bank account.
Cover Fees: Online transactions have a fee for processing. This fee is taken out of your tithe. Click this box if you want to cover those fees for the church.
Submit: Once you have decided all of the above options, this is the button to finalize your tithe.